Back by popular demand! We will be running our always popular flower courses again. Please check this page to keep up to date!
Our flower courses are no longer in the flat above the shop, held now in the shop premises, not what you may previously be used to. They will be for groups of between 4 - 8 - smaller numbers than that of our previous courses. This makes them a much more intimate and one to one experience ensuring everyone gets enough assistance if needed from our fantastic tutor Justine Snare. We are happy to run private courses for minimum of 4 people if you and a group of friends or family would like to come along and get creative! Private classes can be arranged for most week day evenings or on a Sunday if preferred.
We are also considering offering DIY Wedding Flower Classes which can be for a bit of fun for the Hen night or even to make bouquets or table arrangements for your special day. If you are interested in doing this please let us know and we can work out a price based on what style and flowers you would like.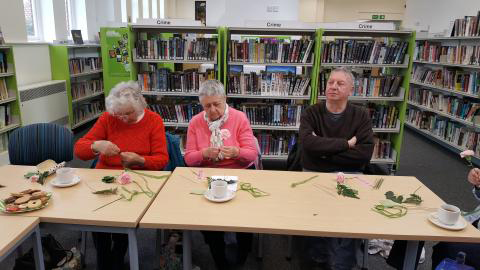 Inlight of the current pandemic no courses are taking place at this time in accordance with social distance laws. New course information will be updated soon. We look forward to seeing you.